It's the first blog post of the new year, so we thought we'd take this opportunity to outline our plans for the Communities Programme, from our long-term projects Citizen and Story Nation, to our new Scotland's Year of Stories project.
Citizen is our flagship Communities project and is now in its fourth year. The aim of Citizen is to bring people together through creativity and conversation. Our Citizen work is primarily focused in North Edinburgh, Musselburgh and in the Tollcross area of Edinburgh city centre, and is developed in partnership with local venues and community hubs.
This year, our two Writers in Residence, Eleanor Thom (Communities) and Ryan Van Winkle (Schools) will be working with different groups to inspire discussions and creative work about community, home and what citizenship means today.
Eleanor will be working with Streetreads, a library for people who've experienced homelessness which opened its doors last year, helping to gather stories about which books are important to them and why. We are also in discussion with Stepping Stones North Edinburgh, to arrange for Eleanor to work alongside their Young Parents groups at Royston-Wardieburn Community Centre and Granton Parish Church groups.
Eleanor's hybrid work continues, with the group of writers from North Edinburgh, Musselburgh and beyond connecting weekly and preparing new work to share at showcase events later this year. If you would like to get involved, please email Eleanor at citizen.nea@gmail.com
Ryan van Winkle joined the Citizen team last year, bringing his energy, his creative talent and his sense of fun to St Thomas of Aquin's High School last year, working with S2 and Advance Higher English classes. In the coming weeks, he'll be setting students the challenge of building their own planets, encouraging them to decide the rules of their societies, their histories, their heroes and villains. He will also be meeting weekly with The Citizen Collective, a group of talented writers aged 16-18 from across Edinburgh, who will be performing at the Book Festival in August.
Alongside the August Festival, another high point for Citizen this year will be our Winter Warmer, which will take place in November. This is a chance for all our Citizen participants to come together in their own communities and share their work alongside artists, writers and storytellers. There will be something for everyone to enjoy, with workshops, readings, performances, interactive activities and a community meal.
Our Story Nation project brings the joy of the Book Festival to audiences who, for various reasons, cannot access our events. It aims to combat isolation and create rich opportunities for engagement with the written word among vulnerable or unheard communities across Scotland.
Our prisons partnership work with Open Book means that our Story Nation sessions have already begun in HMP Greenock, HMP Dumfries and HMP Barlinnie, where groups have been working with Book Festival event footage and connected texts, to spark discussions on related themes, such as home, (in)justice, and mental health.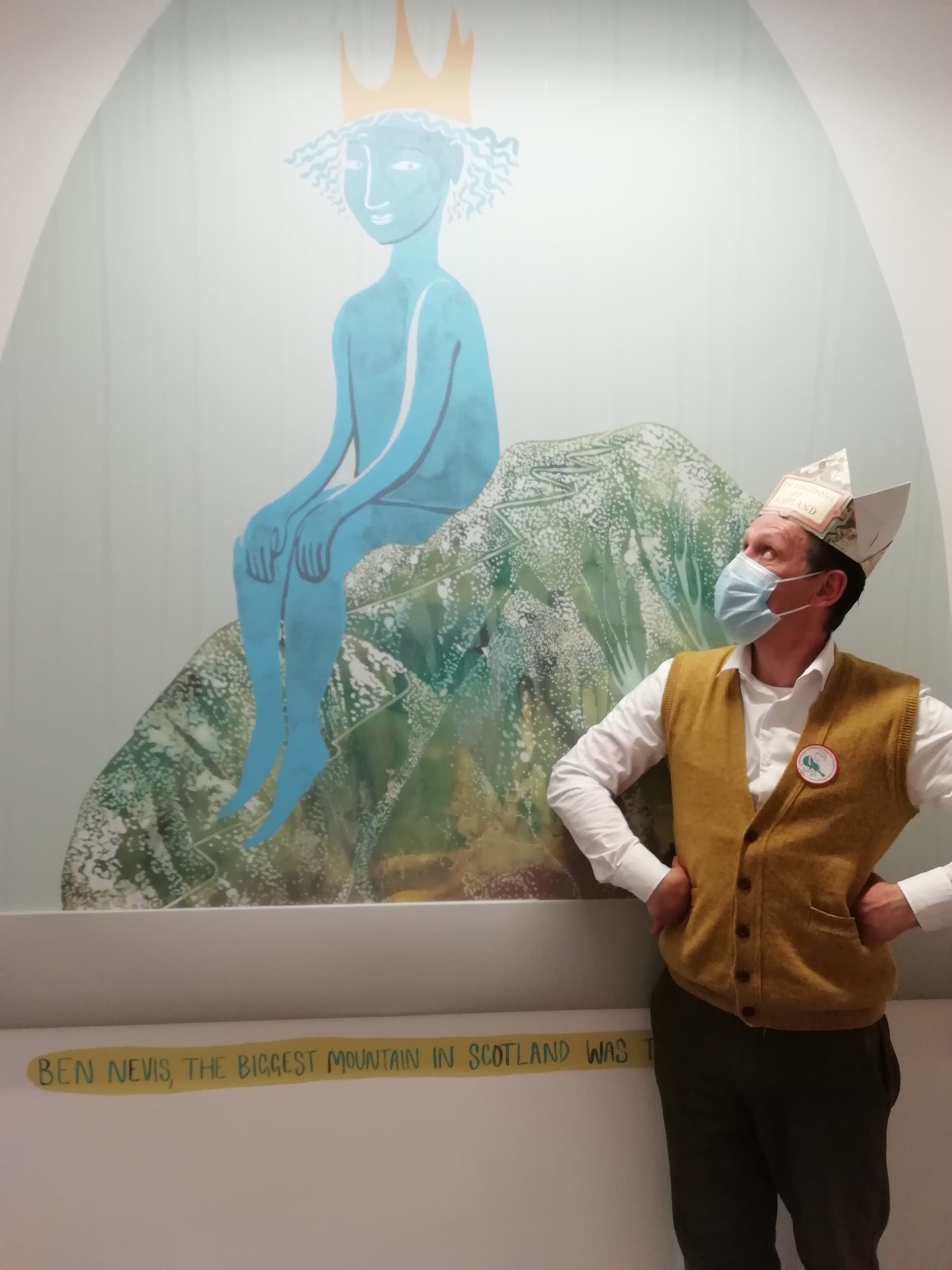 Over 2021 we worked with the Arts Team at the Royal Hospital for Children and Young People to bring expert storyteller Andy Cannon into different wards and keep the young patients entertained. Should restrictions allow, we plan to build on this engagement this year, with more authors and artists facilitating one-to-one or small group sessions in the hospital. We can't wait to get involved with their seasonal activity programme over the course of 2022.
Another group of people we hope to engage with more this year are those in Care Homes, who have had such a difficult time throughout the Coronavirus crisis. We have been seeking out writers and creatives who we think would work especially well in this setting, and are planning to deliver a number of in-person workshops in our partner Care Homes: Cramond Residence, Gilmerton Care Home and Eagle Lodge, over the course of the year. If you know of an Edinburgh Care Home who might be interested in partnering with us, please do let us know.
Scotland's Year of Stories 2022: Scotland's Stories Now
As soon as we heard that 2022 had been designated Scotland's Year of Stories, we knew we had to get involved. Scotland's Stories Now is our response: a mass participatory project that will see people of all ages and from all backgrounds creating and telling stories about Scotland today.
By pairing up writers with community groups in five of Scotland's Local Authorities, we'll encourage our storytellers to draw inspiration from a number of uniquely Scottish sources, from the landscape to myths and legends, and to engage in current issues which matter most to them. There will also be a callout for story submissions which will be hosted here on our On The Road blog: watch this space for more details.
The stories we gather will be shared and presented in a series of multi-artform events during the 2022 Edinburgh International Book Festival in August.
The Alternative School at Spartans Football Club
Our partnership with the Alternative School at Spartans began as part of our Citizen project, with former Writer in Residence Leyla Josephine working with the young people to create a Zine which explored their lives through photos captured on disposable cameras, alongside poetry, raps, illustrations and collages. We are delighted that our partnership with Spartans is going to continue, and plan to recruit a dedicated Writer in Residence who will be based at Spartans each week. The learning environment at the Alternative School puts the individual learner's needs at its heart, and therefore, sessions will be held on a one-to-one basis, throughout the 2022-2023 academic year.
As always, this part of the year is busy with planning for the August Book Festival and we are looking to embed our Communities Programme more closely than ever this year, with community groups visiting the Festival site, community showcases and performances and an interactive exhibition space where visitors can respond to the creative work our participants work on throughout the year.
As always, we will keep our blog up to date with all of our community news, and if you'd like to stay in touch, follow us on social media @edbookfest.
***
We are grateful to all of our funders for making our Communities Programme possible.
Citizen is supported by players of People's Postcode Lottery and through the PLACE Programme (funded by the Scottish Government, City of Edinburgh Council, and the Edinburgh Festivals, and supported and administered by Creative Scotland).
Scotland's Stories Now is supported by EventScotland, as part of the Year of Stories 2022.