As part of our Story Nation project, writer, performer and professional storyteller Andy Cannon helped take the joy of the Book Festival to the children and families at the Sick Kids, as part of their Easter activity programme.

We are delighted to be working with Edinburgh Children's Hospital Charity (ECHC), to take our Story Nation programme to the new Royal Hospital for Children and Young People.
Our work with ECHC has happened in fits and starts during the last year, due to Covid-19 and the relocation of the hospital from central Edinburgh to its new purpose-built facility. But in late March, after many 'pivots' and revised plans, we were able to start the project in earnest. We began by creating 100 book and activity packs, which were distributed to patients during their relocation to the new hospital, helping the children and young people settle into their new environment.
These packs each contained a notebook, gel pens or crayons, stickers and a book that was featured in the Children and Schools programme at last year's Book Festival. We also included bespoke learning resources created for each of the books, which you can find on our learning site here.
Storytelling at the new hospital
Over the Easter holidays, working closely with the ECHC Arts team and professional writer, performer and storyteller Andy Cannon, we developed interactive story-based workshops, that Andy delivered in-person across the hospital wards.
The wards at the Sick Kids are named after Scottish castles, so through stories like The Fairy Flag of Dunvegan, Andy brought these places to life. With Andy's experience of telling a vast range of stories to suit different age groups, he and a colleague from the ECHC team were able to wander through different areas of the hospital, tailoring stories as they went, whether that was interactive, sensory stories for babies, young toddlers and their parents, or telling tales to make teenage patients laugh.
The purpose behind Story Nation is to bring the spirit of Edinburgh International Book Festival to communities and people who face significant barriers to attending events. After a year of high-level lockdown restrictions with no external facilitators permitted in the hospital, it was clear that everyone enjoyed the in-person interaction, with staff gathered in the doorways to watch performances unfold.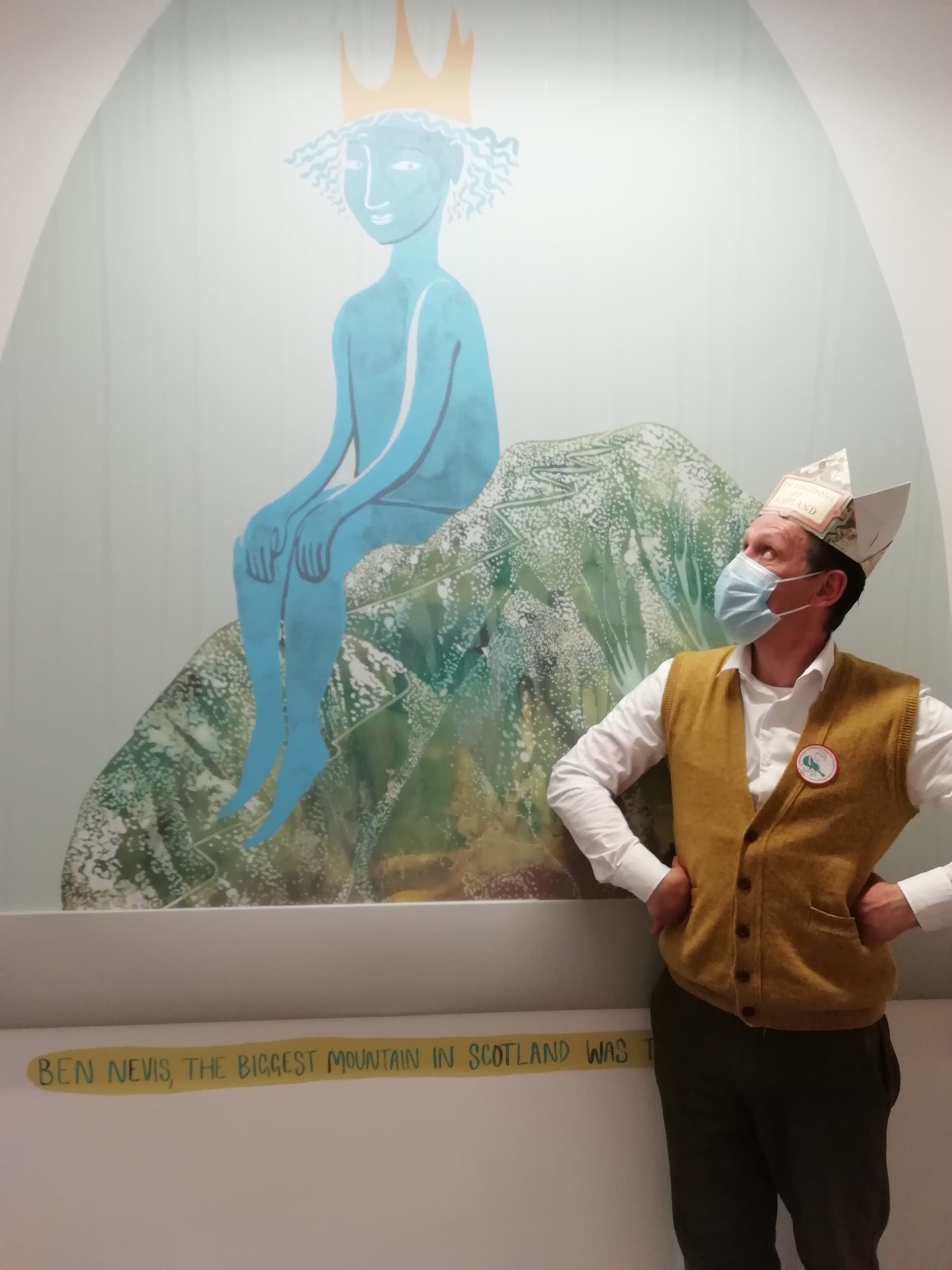 Although Covid-19 presented some challenges, not least Andy having to wear a face mask while storytelling, the workshops were extremely well received by the children, their families and staff at the hospital. Alongside the wonderful feedback we have received from ECHC and the families about the packs and workshops, Andy himself has also told us what an enriching experience he found delivering the workshops across the hospital.
"It was so rewarding as an artist, as a storyteller

, as a human."
Over the coming months we will be bringing weekly workshops to the hospital, delivered by Andy as well as several other artists and authors. We cannot wait to build on what we have started!